Every seller expects top dollar when selling their home. Why wouldn't they? They lived there for a while and are used to the creaks in the floor, household smells (everyone has it good or bad, if you don't smell it you are accustomed to it) the small to do list you've been meaning to fix every weekend for months and the buildup of stuff that you're so used to you don't even see it anymore. Unfortunately, the numbers are different between Market Price and Lived In Price. Buyers need to imagine themselves living in your home, raising a family, holiday gatherings and decorating with their style. It's harder for them to see that when you are still in the Lived In mode. And IF there was an offer made, it will be considerably lower than what you are expecting.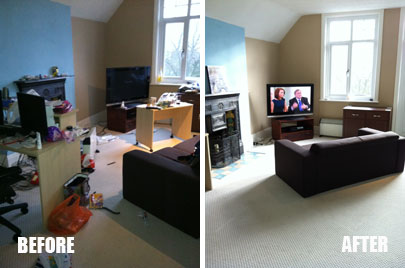 Here are a few hints to make your home Market Ready:

1. Start packing- You're planning on moving anyway, right? Pack up off season clothes, books, personal pictures, majority of toys, etc. Move all to a storage unit. Remember, Less is More! *DECLUTTER*
2. Get that Honey-Do list DONE- When a woman walks into a house, she is mentally decorating. When a man walks in, he's noticing all the items that he will have on HIS Honey-Do list. The more he sees, the less excited he becomes about your house and the more money he wants to deduct from the list price. Not to mention, when you receive an offer, the Buyer will most likely have a Home Inspector go through your house with a fine-toothed comb. If any repairs are needed, the Buyer will require a licensed contractor to perform the work or request a reduction in the price of your home to compensate for the work needed. Save yourself some money and get that list done before launching on the market. *REPAIR*
3. Go Neutral- You've heard the saying "You can't please everybody all of the time" which is absolutely true. The next best thing is to make it a blank canvas. If your home is beautifully decorated in red, black and white…that may not give that warm inviting vibe to several types of Buyers. They are thinking about how much they will have to repaint and redecorate BEFORE they move in. Keeping it neutral means they can move in and take their time making it their own. *NEUTRALIZE*
4. Remove You- Another way to enhance the Buyer's reception of your home is to clear out any pictures of you/your family/pets, favorite teams, deer on the wall, Coke bottle collection, trophies, etc. We don't need any distractions from your house. Think of it as a clean slate. *DEPERSONALIZE*
Today's Buyers are a mix of 4 types; Seniors, Baby Boomers, Generation X and now Millennial's. All have different styles and preferences but these helpful hints will apply to all types. This appeals to the greatest number of buyers and will get your home sold quicker and for the most money….which is what every Seller wants, right?